The 2023 Subaru Love Promise Customer and Community Commitment Award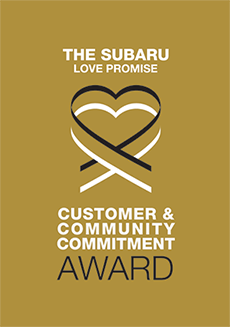 We've been nationally recognized for our dedication to our customers, our community, and the Subaru Love Promise.
We're honored to receive the 2023 Subaru Love Promise Customer and Community Commitment Award. This award nationally recognizes elite Subaru retailers who provide an exceptional customer experience at every interaction with Subaru. These retailers have also demonstrated an outstanding commitment to supporting passions and causes in their local communities in important areas such as the environment, community, health, education, and pets.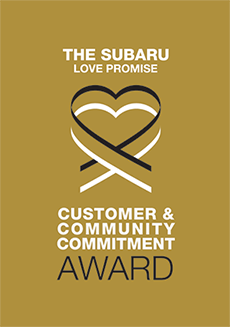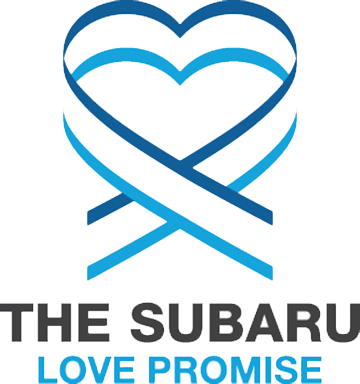 What is the Subaru Love Promise?
Subaru and our retailers believe in making the world a better place and the Subaru Love Promise is our vision of respecting all people. This is our commitment to show love and respect to our customers and to work to make a positive impact in the world.
How is Reynolds Subaru dedicated locally to the Love Promise?
Our Love Promise can be seen in various partnerships with local charities and non-profits. We're grateful for the opportunity, not only to be a part of our community, but to serve it as well.
Love Promise Stories from Reynolds Subaru
Subaru and Reynolds Subaru believe in making a positive impact on the communities in which we live and work. We uphold that belief through our Love Promise Community Commitment. Every month, we select inspiring stories from customers and partners from around our area who strive to support our collective commitment and feature them here
Banksy's 300+ Day Stay - Kathryn S
How could cute little Banksy be overlooked for so long? Banksy was with the Connecticut Humane Society for over 300 days before the right people came along to bring him home. When Banksy first came to CHS, he was a very anxious cat. While he could be shy at first though, when you got to know him he was sweet and friendly, so the behavior team at CHS determined that Banksy could benefit from a bit of socializing. They set a specific group of volunteers, called the Fur Squad, to slowly and steadily socialize with Banksy so that he could be braver about the world. Without the wonderful community of volunteers, donors, and pet lovers here in Connecticut, none of Banksy's medical or behavioral care would have been possible. After all his time waiting and learning how to be brave, Banksy went home to some cat savvy owners who love him dearly. Thanks to Reynolds Subaru, more pets like Banksy have the chance for bright futures. During the Subaru Love Pets campaign, Reynolds donated $100 for every dog and cat adoption, so other pets would have the same love, support, and success that Banksy did here at the Connecticut Humane Society. On top of that, Reynolds' donated Bark Boxes for newly adopted dogs to go home with a few goodies to get them started in their new lives. Thank you Reynolds' Subaru!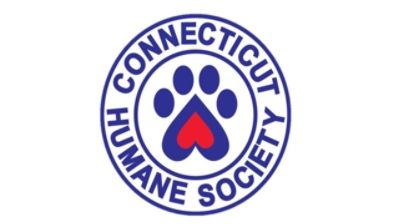 ---
Classroom Surprise - Matthew C
On September 26, 2022, Brad Ennis of Reynolds Subaru, surprised my class and myself with a donation of much needed school supplies. We were starting a 3D cell model at the time, so the class was very excited to have the extra and much needed materials. They were well used.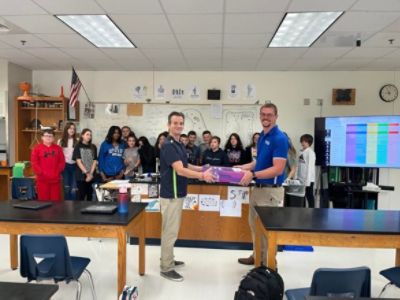 ---
Reynolds Subaru Adopted Our Class! - Jennifer L
My 7th grade math class was fortunate enough to be adopted by Reynolds Subaru. I cannot thank Brad Ennis and the entire Reynolds team enough for this. The class was extremely excited to receive these supplies. The adoption certificate is on our white board for display. Some students still ask what does the adoption mean, so I get to retell the story of how fortunate our classroom was to receive these supplies! Thank you Reynolds Subaru!! Ms. Lillard and her class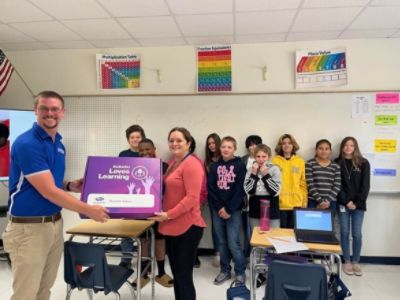 ---
Adopt a Classroom - Jackie B
I am a first year Special Education teacher at Prospect Heights Middle School. I was truly surprised when my classroom received its Subaru Adopt a Classroom box. My students were full of excitement about all the classroom goodies. It was so nice to see their joy. As a new teacher it was encouraging to see that members of our community care. Thank You Reynolds Subaru!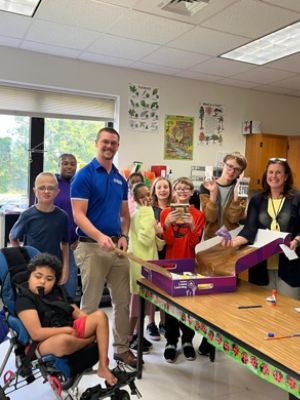 ---
My Classroom - Jimmy G
It had always been my dream to be a teacher. Since the next generation is already here, I figured I would do my part and be an ideal role model for the future. When Reynolds Subaru stopped by my class with their gift, I was initially shocked and uncertain. I had just started teaching and within only a month, I receive a big package full of school supplies and an adoption of my classroom from Reynolds Subaru? I thought I was dreaming, but when you have your dream job, everything feels wonderful. It was truly an honor to receive such a gift from Subaru. I hope to leave a good impression on my students, and that they will always look back to me should they ever need my help.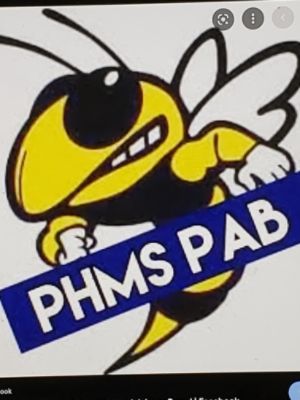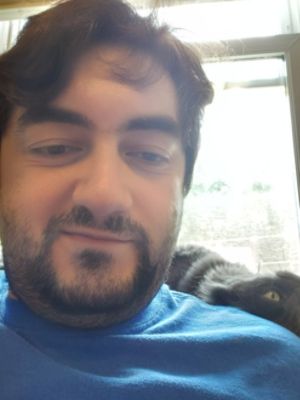 ---
Warming Their Hearts -Blanket Delivery - Amy S
Dogwood Village of Orange County Health & Rehab would like to once again thank Reynolds Subaru of Orange, Virginia for their generous donation of Subaru blankets for our residents. This is the third time Reynolds Subaru of Orange has partnered with The Leukemia Lymphoma Society (LLS) and has made a special donation to our facility. Our residents, family members and staff are so touched by the generosity showed each time they visit and our residents love the blankets as they keep them warm all year long.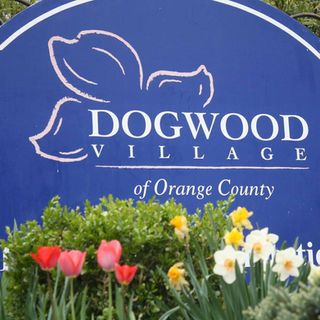 ---
Oranges Make Lemonade - James C
Generous donations from Reynolds Subaru and other valued community partners help to support a variety of activities at the Boys & Girls Club of Orange, including leadership and service programs designed to teach young people lifelong skills. This fall, teen Club members organized a lemonade stand, raising proceeds for the Orange County Animal Shelter. Thanks, Reynolds Subaru, for helping us to share the love forward! We are so fortunate to be a part of this special community.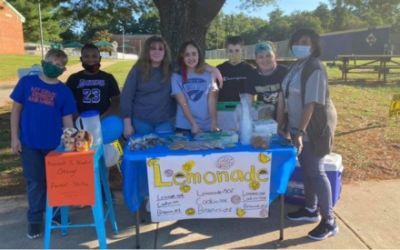 ---
She Loves Her Steering Wheel Too! - Lydia I
We came into Reynolds looking for a new car and, along with great service and friendly staff (not overbearing like your typical dealership), we saw firsthandly what Reynolds does in their community. During that time, they were running a fundraiser for the local animal shelter. We have a second child in our life (aka Bella, our cockapoo) so it melted our hearts immediately. We happily gave a donation for the local animal shelter and in return, they provided Bella with a Subaru steering wheel and stuffed car. Needless to say, Bella loves both of these toys as much as we love our Subaru (with her riding along in the backseat and looking out the window)! If you are in need of a car.... check them out! It was a great buying experience along with notable sincerity to take care of their community. --Lydia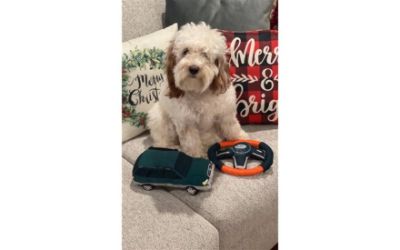 ---
"Cruzing-In" on the Generosity - Sara C
Reynolds GM Subaru of Orange hosted their second annual "Cruze-In" event on September 18, 2021, which brought together people from the community of Orange, Virginia to showcase their best vehicles with, fun prizes, great food, and entertainment. Best of all, the event hosted a special raffle that benefitted Boys & Girls Club of Orange, raising nearly $600 in proceeds! This donation goes directly to support the Club's mission to provide quality programming to hundreds of youth in the community. The Club is a reliable and safe resource for families to depend on, for the children who need us most. None of which would be possible without the support of our community, included Reynolds GM Subaru of Orange, who has so generously contributed to our Club operations for over 5 years.
---