The 2021 Subaru Love Promise Customer and Community Commitment Award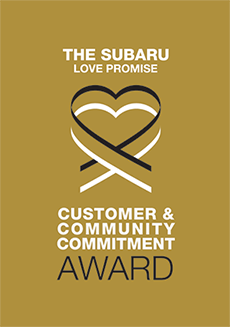 We've been nationally recognized for our dedication to our customers, our community, and the Subaru Love Promise.
We're honored to receive the 2021 Subaru Love Promise Customer and Community Commitment Award. This award nationally recognizes elite Subaru retailers who provide an exceptional customer experience at every interaction with Subaru. These retailers have also demonstrated an outstanding commitment to supporting passions and causes in their local communities in important areas such as the environment, community, health, education, and pets.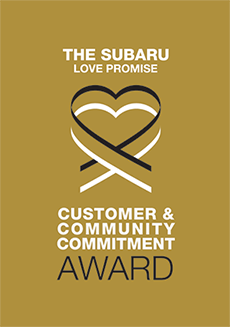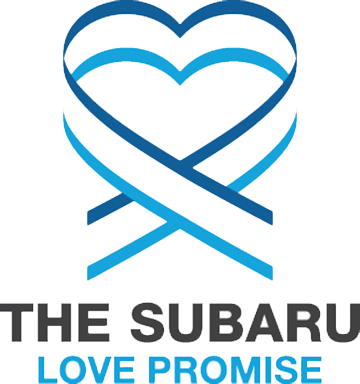 What is the Subaru Love Promise?
Subaru and our retailers believe in making the world a better place and the Subaru Love Promise is our vision of respecting all people. This is our commitment to show love and respect to our customers and to work to make a positive impact in the world.
How is Reynolds Subaru dedicated locally to the Love Promise?
Our Love Promise can be seen in various partnerships with local charities and non-profits. We're grateful for the opportunity, not only to be a part of our community, but to serve it as well.
Love Promise Stories from Reynolds Subaru
Subaru and Reynolds Subaru believe in making a positive impact on the communities in which we live and work. We uphold that belief through our Love Promise Community Commitment. Every month, we select inspiring stories from customers and partners from around our area who strive to support our collective commitment and feature them here
Reynolds Really Cares!!! - Jenna C
Last week I was surprised to learn that Reynolds Subaru had made and handwritten over one hundred Christmas Cards and delivered them to the local nursing home the day before Christmas! In a time where some of these residents were not able to see their family this year due to the restrictions, this goes above and beyond what was expected from a local business. I also learned that they delivered blankets and facemasks to the nursing home as well. These gifts are awesome and I believe a lot of businesses have done similar things in the past, but to hand make Christmas cards to residents who have not been able to see their family really makes me feel good about doing business with this dealership!
---
Reynolds Subaru Fur-Ever Event - Nichole H
October is pet adoption awareness month at Reynolds Subaru. I have attended all of their Subaru Loves Pets Adoption events and participated in their toy & food donation drives. Due to the COVID-19 pandemic, I was concerned that Reynolds would not be able to host their event as planned. During this yearly drive they collect donations such as food, blankets, toys, and monetary gifts that the shelter is always in desperate need of. Unfortunately, with time as they are this annual event had to be postponed. But with some quick thinking and planning the folks at Reynolds Subaru... They were able to react in such times! I was happy to hear that Reynolds Subaru made a donation for every pet that found their fur-ever home for the month of October at the Orange County Animal Shelter.
---
BGCCVA: Virtual Summer Programs - James C
Through the 2019 Subaru Share the Love Event, the generosity of Subaru of America, Inc. and Reynolds Subaru has significantly supported Boys & Girls Clubs of Central Virginia's (the "Club") ability to serve Club members during the COVID-19 pandemic. In the midst of uncertainties and ongoing challenges, the Club is staying connected and engaged with children and families through virtual programs that provide academic enrichment, support mental health, and address basic needs. As a result of coronavirus, the Club has transitioned from 100% in-person operations to 95% virtual, including a free 8-week virtual summer program which is available to all Club members in a tiered format to promote participation, regardless of internet access. Program opportunities include Summer Reading, STEM and arts projects, and wellness activities. To facilitate in-place learning and support basic needs, Club staff are delivering books, STEM and arts supplies bags, and meals to members and families. Summer Reading, available to all Club members, includes at-home activities and weekly read-aloud sessions. The selected reading material covers a wide range of interests and intentionally features characters that reflect a diverse population. Among books selected for the summer are Peter H. Reynolds' "The Dot" (1st-3rd grade), David J. Smith's "If the World Were a Village" (4th-5th grade), Raina Telgemeier's "Ghosts" (6th-8th grade), and Renee Watson's "Piecing Me Together" (9th-12th grade). Interactive healthy cooking videos are one of the many wellness activities offered online. Recently, participants had the unique opportunity to join world-renowned chef André Soltner for a personalized cooking class. Demonstrating the importance of eating a variety of vegetables are Club volunteers who are tending to the Club's garden until it is safe to reopen. Many of the meals distributed to members contain freshly picked lettuce, kale, radishes, and strawberries collected by the volunteers. As part of STEM and arts projects, the Club's STEM specialist is leading members in Story City, a multi-week project that engages kids from their homes in designing and building their own unique cityscapes. Additionally, the arts specialist has designed a weekly virtual art studio for members to practice painting and drawing techniques. Other virtual opportunities include scavenger hunts, spelling bees, science experiments, and group exercises. Additionally, participants get to practice life skills and learn tips for staying organized, and those with summer birthdays receive a special virtual shout-out. To connect individually with kids, Club staff are writing them personalized letters and asking what specific needs they might have. In the midst of COVID-19, Subaru's generosity has played a key role in the Club's response to evolving children and family needs. Boys & Girls Clubs of Central Virginia sincerely thanks Subaru for its valued partnership and helping serve young people in the community.
---
Holidays with the Reynolds Subaru Family - Sabrina R
Reynolds Subaru is celebrating its third year partnering with the Orange Community Church of Christ, sponsoring the less fortunate during the holiday season. Last season alone the employees of Reynolds (not the company, but their employees) donated enough money to provide Christmas gifts for twenty five children, who otherwise may not have had any gifts to wake up to Christmas morning. Reynolds Subaru also donated a catered a Christmas meal to the church, where, several employees, including the owner John Reynolds served the meal while sharing lots of laughs and camaraderie with all attendees. There was a mutual feeling of joy and kindness that day that was priceless.
---
Subaru & LLS Deliver Blankets to Dogwood Residents - Khiem T
Reynolds Subaru and the Virginia Chapter of The Leukemia & Lymphoma Society had the unique opportunity to deliver 80 blankets to Dogwood Village Assisted Living on July 25 as part of the Subaru Loves To Care program. This incredible act of generosity was warmly received by the Dogwood Village Assisted Living staff who were thrilled to distribute these comforting gifts to their residents. LLS is proud to partner with Subaru to spread hope, love and warmth across the country and right here in the Orange, VA community. Many thanks to everyone at Reynolds Subaru and Dogwood Village Assisted Living, not only for a memorable day, but for supporting LLS's mission to cure blood cancers and improve the quality of life of patients and their families.
---
Small town sponsorship - Tim S
Reynolds Subaru in Orange, VA sponsored our small up and coming youth soccer program for the Fall season of 2018. Orange Soccer Association (VA) serves the youth of Orange Co, VA as role models and educators. OSA, an all-volunteer organization, has relied solely on registration fees and an attitude of "doing more with less" in its short 6 years of existence. With teams climbing the ranks of VA youth soccer, and players now being recruited to play in college, Reynolds sponsorship could not have come at a better time! With their financial donation along with soccer balls, goals, coaching materials - OSA was able to provide a better game and training experience for our players with more time on the ball for all. We were able to provide more financial assistance to players/families who, in the past, were not able to afford the registration dues. Without the timely sponsorship from Reynolds Subaru, OSA as a club, could not have offered the opportunities we did to the youth of Orange Co (VA). The folks at Reynolds Subaru share the same vision - We can't thank them enough! Tim Shuman President Orange Soccer Association (VA)
---
Engineering Lab Made Possible by Reynold's Subaru - Julie S
Summer 2017… I had a dream…. It all started when I took an engineering class at J.M.U. and decided I wanted to devote the rest of my life to teaching children to become little engineers . I have been a science teacher for 25 years, but after this class, I realized that engineering would add a whole new dimension to everything that I taught. So I came back after my class, ready to light a fire in all of my students by setting up an engineering lab in my room. But the big problem was "Where to get the funds???" Enter John and Meghan Reynolds. As fate would have it , our universes collided this summer in Colorado and as quickly as I could share my dream with them, they were ready to make my dream come true! I was over the moon with excitement and immediately started planning. By August, I had ordered almost all of the supplies- the shelving, the hands-on tools, the storage containers and all of the other wonderful materials that make an Engineering Lab complete. I even came up with a totally radical name for this new lab- "The Rad Lab!" I had a local sign maker print up a sign to go above my door and workbench. I started an engineering design brief the first week of school and I think I had as much fun as the children did, which is the point, right? And I told all of the children the miraculous tale of how the "Dream " came to life! They were awestruck and still sit and stare at the cool engineering side of the room!! So now, how do I thank you for making my dream come true?? Just mere words will never express my level of eternal gratitude for what you have done for me. You have also given a gift that will touch the lives of hundreds of children for years to come and possibly create some future engineers that could design something that will change the lives of thousands (or maybe even a new car design for Subaru). It all starts with a dream... From the bottom of my engineering heart, I want to thank all of you at Reynolds Dealership for donating your prize money to me that you obtained for being number 1 in customer satisfaction! I also want to thank Subaru for creating an award that can make such a difference in many lives. Giving a gift to a school is always a wonderful way to multiply the prize because you never know how many young lives it will touch. I will continue to tell my miraculous story for years to come and your commemorative sign will live above my classroom door. You will never know what this donation has meant to me and how much I appreciate your generosity! Please stop by and visit. I wish there were grander words than just "Thank you", but I will just say it over and over and over-Thank You......Thank You .......Thank you!
---
Relay for Life - Jenna P
This Year 2017, Reynolds Subaru Donated to the Relay for Life Louisa, VA. We are a local event that raises funds for the American Cancer Society. The American Cancer Society provides services to our local county such as "Look Good Feel Better" that provides wigs, and classes for patients going through Chemotherapy. Due to Reynolds Subaru Generous Donation our Event was able to raise over $20,000 to our Cause!
---
EVERY DOG (AND CAT) HAS THEIR DAY IN ORANGE - Virginia S
The saying "you can never go wrong with kindness" was revealed to be more true than ever on a sunny Saturday in late October in Orange, Virginia. Normally a day dedicated to sales and wrapping up a strong week, Reynolds Subaru's focus became a little, shall we say, fuzzy? Furry friends like "Montana", "Kassidy", "Rufus", and a host of little kitties, led by none other than Subaru, were about to take center stage in the Showroom for the real "woof (show) and "meow (tell)!" Virginia Strong, Director of the Orange County Animal Shelter, along with a host of volunteer helpers, arrived bright and early, and it was an attraction right from the start! These cuddly bundles of love promise stole everyone's hearts right away, and it wasn't long before perfect matches were being made right here in Orange! "Kassidy", the Puggle, was the first to find a new home, followed quickly by "Montana," the speckled Cattle Dog, with the love promise of many more to come! A real sense of community began to take effect as Virginia and her helpers went above and beyond to educate everyone about proper care and handling of our four-legged companions, all the while the Forester was filling up with comfy beds, nourishing food, and toys designed to bring hours of entertainment. This great event showed everyone that the promise of love to another was the surest way to promise love to one's self, and that even on the busiest of days the real bright spot was the four-legged fellowship of good spirit!
---