Established in 1938, Reynolds Pontiac
, Cadillac, Buick, GMC Truck, Subaru Inc have been doing business in the historic town of Orange, VA for over 70 years
.
The business began as humbly as most did back then, as a one man Shell service station.
Chester
 Arthur Reynolds Sr., known as 'Jack' was a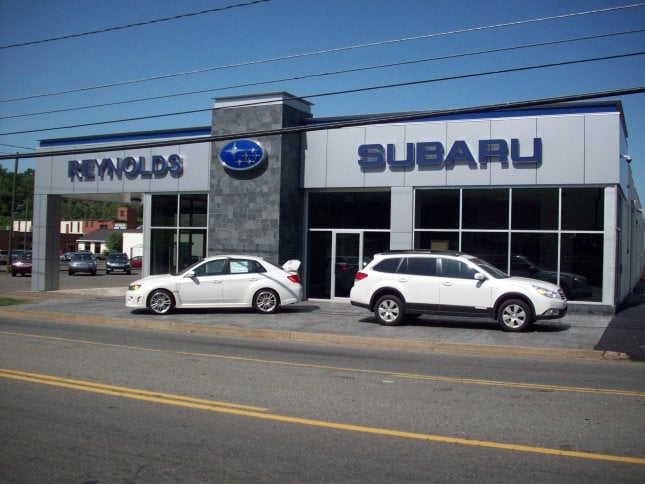 child of the depression who knew how to hunt, to rebuild cars and to raise a family.
The service station began in 1930 about ¼ of a mile from our current location.
In 1938 the business changed location and began selling 
Pontiacs
 from another dealer's supply in the neighboring 
county of Madison
.
Jack had two sons, Chester Jr. and Roy, of which one, 
Chester
 took to the business immediately.
Jack and 
Chester
 began selling more 
Pontiacs
 than the store in 
Madison
 which lead to 
Pontiac
's eventual partnership with us a few years later.
In 1941, 
Chester
 and 
Roy
 enlisted in the Air Force after the bombing of Pearl Harbor where 
Chester
 served as a chauffeur driver in 
London, England
 for a General.
Roy
's tour took him to 
Tunisia
. Meanwhile, Jack became skilled at buying older cars, rebuilding them, and selling them.
Through the misfortunes of war, a building was destroyed where 
Chester
 was driving one afternoon, and he ran in and saved many people's lives earning him the Soldier's Medal upon his return to the 
US
 in 1945.
Once 
Chester
 returned, he and Jack formally received the 
Pontiac
 franchise and began our new car franchise career.
Upon 
Roy
's return, he went to work at a local metal factory as the parts manager.
In 1951 we acquired the Cadillac franchise and took on 15 employees.
In 1957 Jack passed away, and 
Roy
 entered the dealership to become the head cashier.
In 1963, we acquired GMC truck, and shortly after we found the need to open a body shop.
There was a building next door that was for sale, so we purchased the building and turned it into the body shop as it exists today. In 1968, the tractor dealership next to the showroom decided to relocate, so we purchased that building also and made it the main showroom as it exists today.
The former showroom became the exclusive service department as it exists today. In 1970, one of Chester's two sons, Kevin, came on board formally, and with GM's increased confidence, we received Buick.
Only a few months later Kevin was forced to enlist in the Navy as the Vietnam War gained momentum.
In 1972 Kevin returned to sell cars under the cautious direction of his experienced and knowledgeable father.
Kevin's younger brother Tom entered the dealership after a sparkling football career at 
Virginia
T
ech in 1975.
The four continued to work and grow intermittently for the next 11 years.
In 1986 
Chester
 died unexpectedly of pulmonary fibrosis leaving the business to Tom and Kevin. 
From that point, Kevin Sr. became the Sales Manager as well as the Dealer-Operator, and Tom became the General Manager and President.
These were just titles of course, and each wore more than two hats.
In 1990 we purchased a lot to increase our frontage and help our exposure on the main highway.
In 1991 we acquired our first import line, Subaru.  Since then, we've continued to serve our community humbly and gratefully. To Subaru, we owe much gratitude and respect as they have introduced a car to our small town that is unlike anything else in the world. Safe, Durable, Stylish, and Dependable, Subaru have truly lived up to the Japanese translation of their name, "Unite," as they round out an incredibly diverse GM lineup and bring together the rich culture and diversity of  our beautiful community.
How Reynolds Subaru Brings Family Tradition to Orange, Charlottesville, and Culpeper, Virginia

Now that you know more about our family owned and operated car dealership in Orange, VA and the history behind the evolution of Reynolds Subaru, come and see how we put those rich traditions into action. Go ahead and browse the new Subaru line up or the carefully selected used cars we offer in our Orange showroom and lot. Then bring your questions about the Subaru Outback, Legacy, Forester or Crosstrek to our team. Let us show you how 70 years of serving our local community translates in to friendly and knowledgeable customer service for Charlottesville, Culpeper, and the surrounding areas.

Get the Subaru Lease, Service or Parts You Want, with Ease!
To say that the Reynolds family is invested in the success of your new Subaru Impreza or used car is simply an understatement. In fact, the entire team here at Reynolds Subaru is committed to helping you.

Visit our staff page to learn a bit about the person who will help craft your Subaru lease or car loan, or help you select a used car. You'll discover multi-generational lines of Orange families who have worked here for years.
This means when you bring your Subaru in for routine auto service, we will treat you with the same respect we'd give our own family and neighbors. After all, we are your neighbors! Order your Subaru parts online, or ask the team for recommendations.

Whatever you need, the Reynolds Subaru family is ready to deliver. Reach us at 888-602-3945, or follow these directions from wherever you are to 249 Madison Rd, Orange, VA 22960 today.
---
Reynolds Subaru of Orange
Local
Car dealer
Selling New
Subaru
and Used Cars.
Serving:
Orange, VA
,
Charlottesville
,
Culpeper
Directions
Local Phone:
(888) 442-4861
249 Madison Rd.

Orange,
VA
22960